The new Club Suite onboard the British Airways 787-10 is one of the most comfortable business class seats in the sky and makes British Airways my preferred carrier for traveling between the USA and London.
British Airways 787-10 Business Class Review
This flight was booked with American Airlines miles as part of a one-way award from Doha to Chicago (details here).
I've now flown American, JetBlue, Delta, United, and Virgin Atlantic between the USA and London and had good flights on all carriers, but I honestly found the new Club Suite onboard British Airways to be the most comfortable seat of all. That's quite a revolution for British Airways, which still offers Club World business class seating with eight seats across on several aircraft types (like this).
Transit In LHR
After landing on Finnair in Heathrow T3 and spending a few hours lounge hopping, I made my way over to T5 where my flight to Chicago would be departing from. It took 40 minutes to get from the Qantas Lounge in T3 to my British Airways gate, which involved going out of the secure area, downstairs, taking a bus to T5, clearing security again, then taking a train to the 5B gates where my flight would depart from.
I did not make time to visit any British Airways lounge during this trip, but have reviewed all the British Airways T5 lounges before:
Boarding began at 2:05 pm, 40 minutes prior to scheduled departure.
British Airways 297
London (LHR) – Chicago (ORD)
Thursday, March 10
Depart: 2:45 PM
Arrive: 5:35 PM
Duration: 8hr, 50 min
Distance: 3,953 miles
Aircraft: Boeing 787-10
Seat: 13A ("Club Suite" Business Class)
Stepping onboard, a flight attendant greeted me and upon inspecting my boarding pass, pointed me toward my seat. The BA 787-10 has four cabins of service including first class, business class, premium economy class, and economy class.
Club Suite
The business class cabin is large on the 787-10, with two large cabins comprising 48 seats in a 1-2-1 configuration. This is a very attractive cabin with closed-door suites and a dark color scheme with a white patterned bulkhead featuring a blue-lit British Airways logo in the middle. Very beautiful.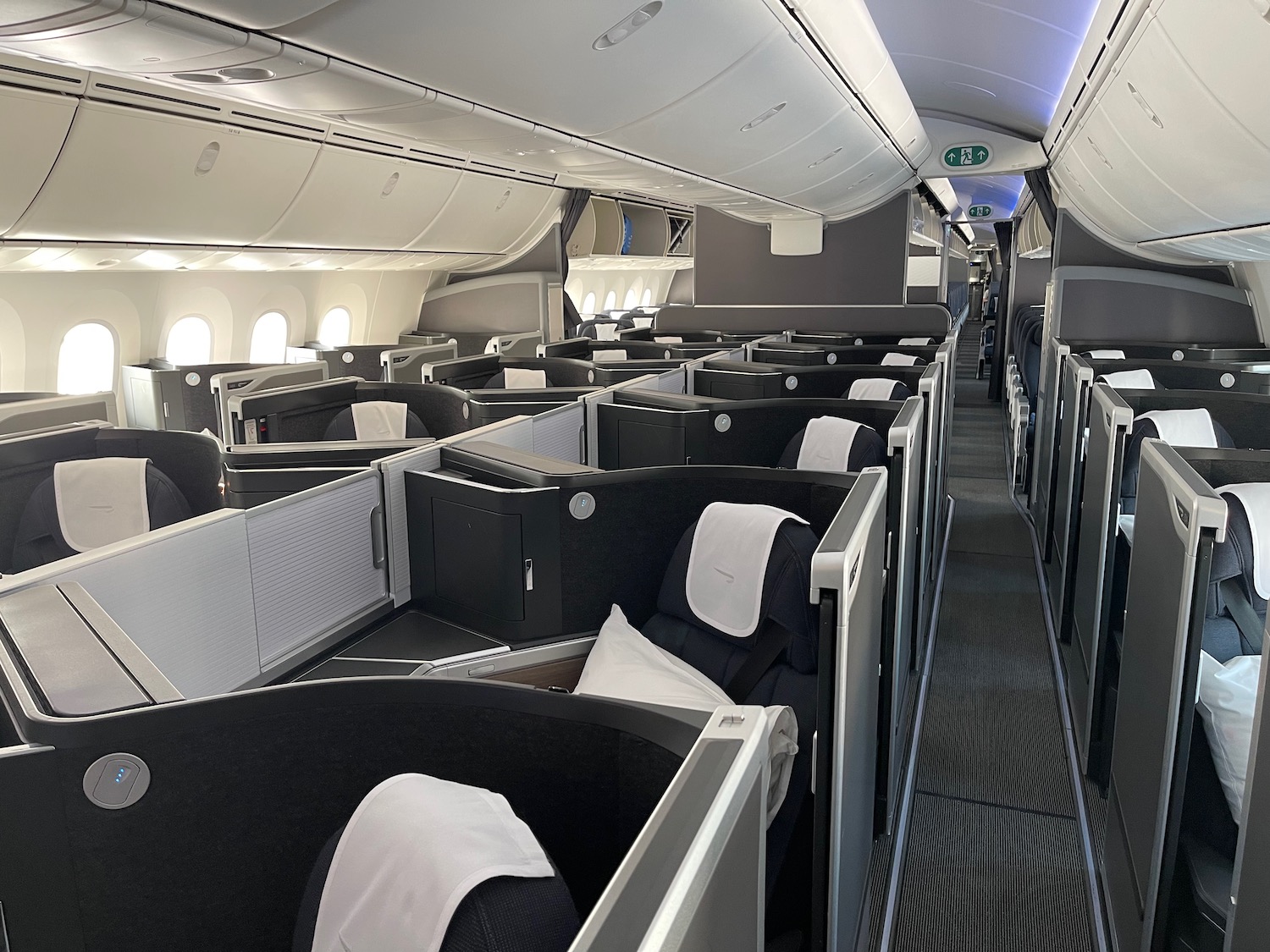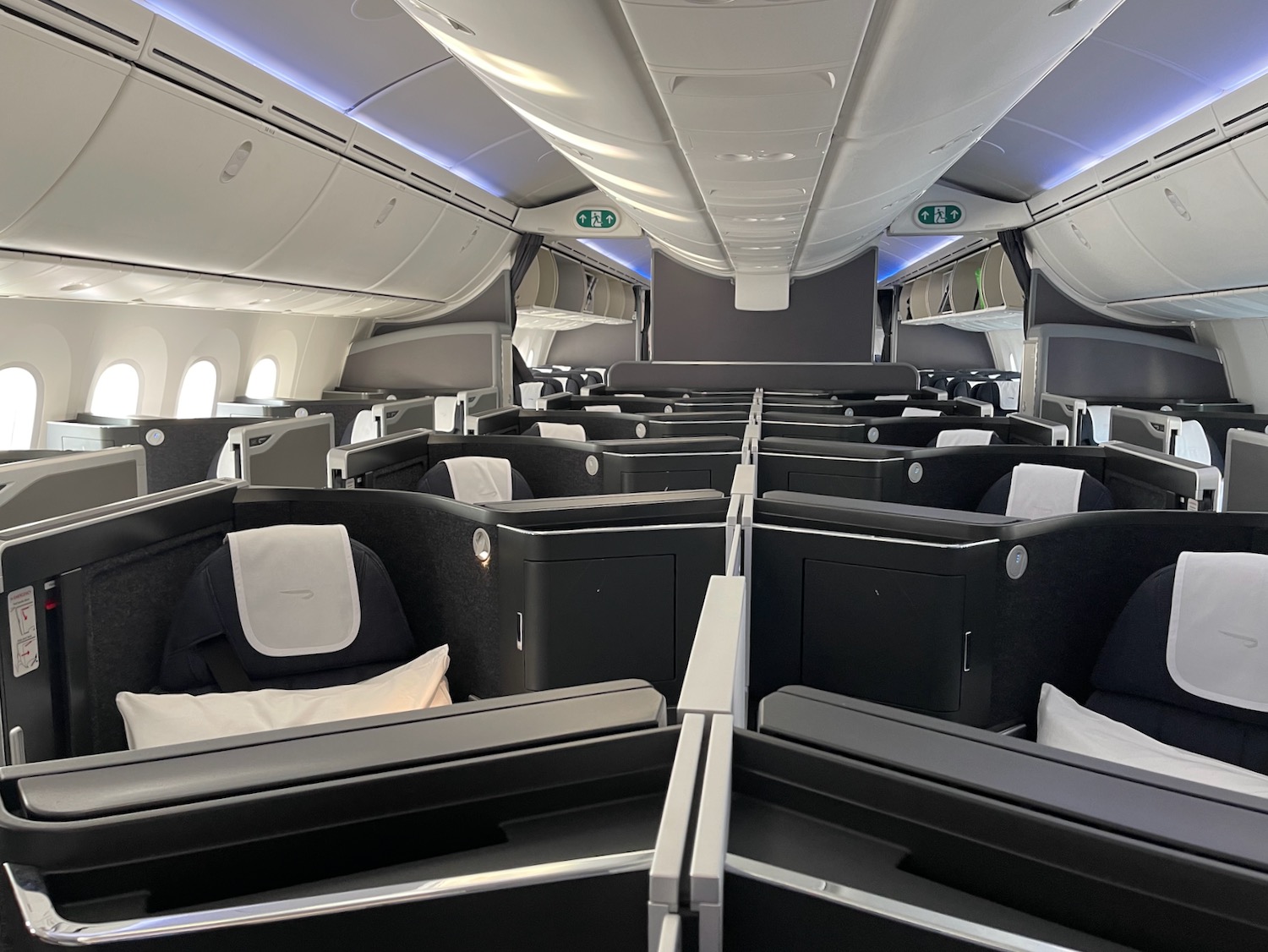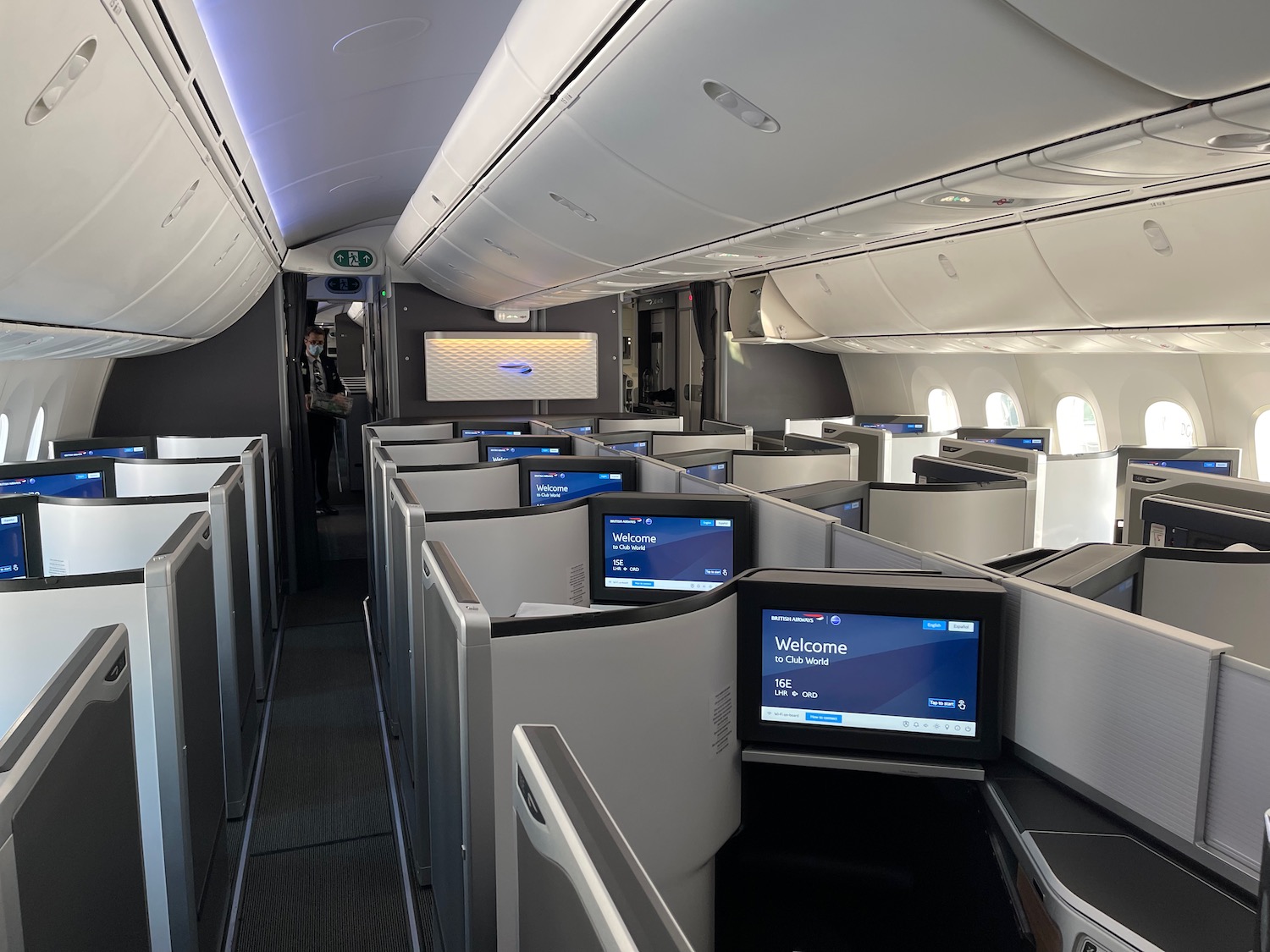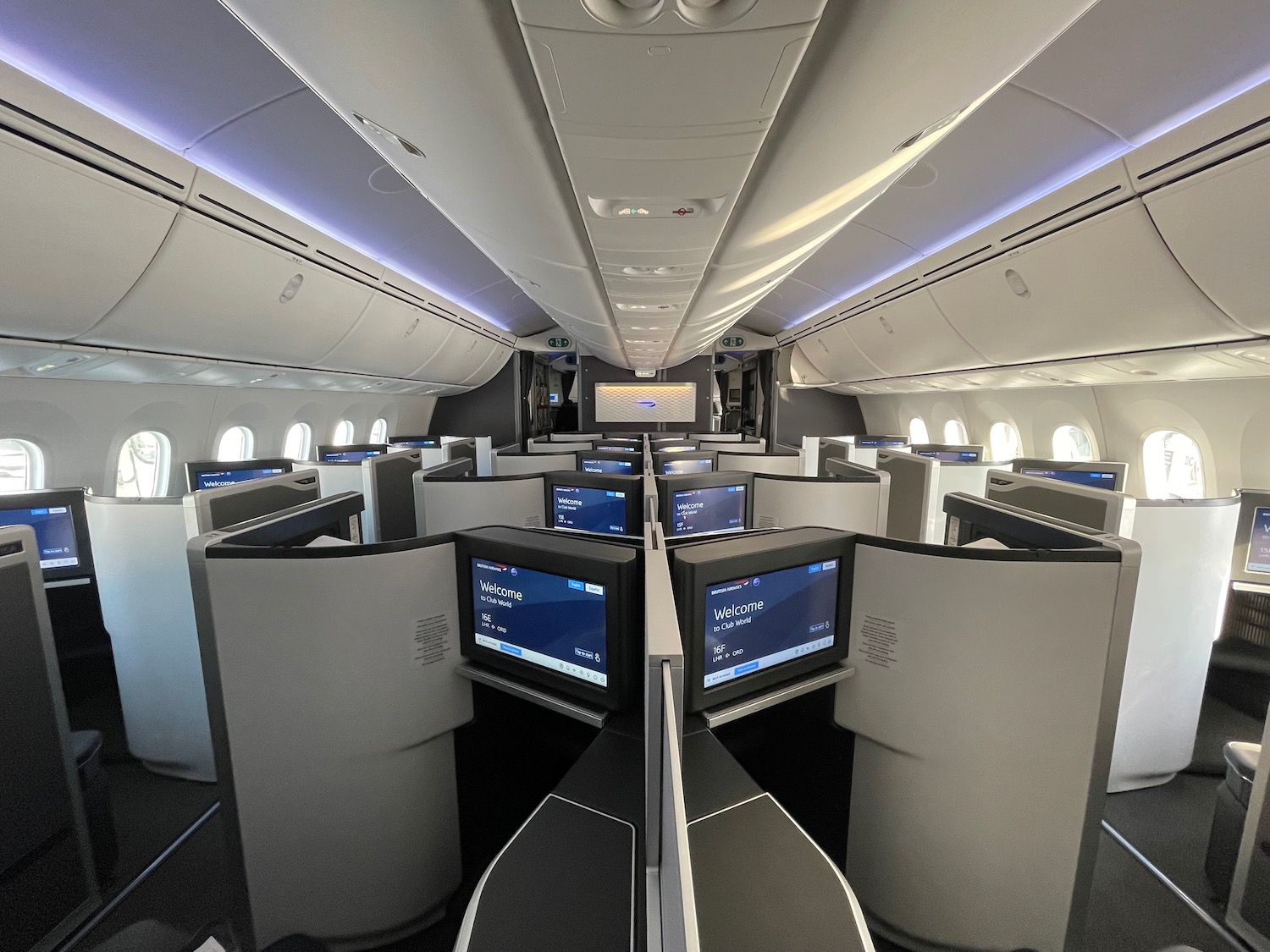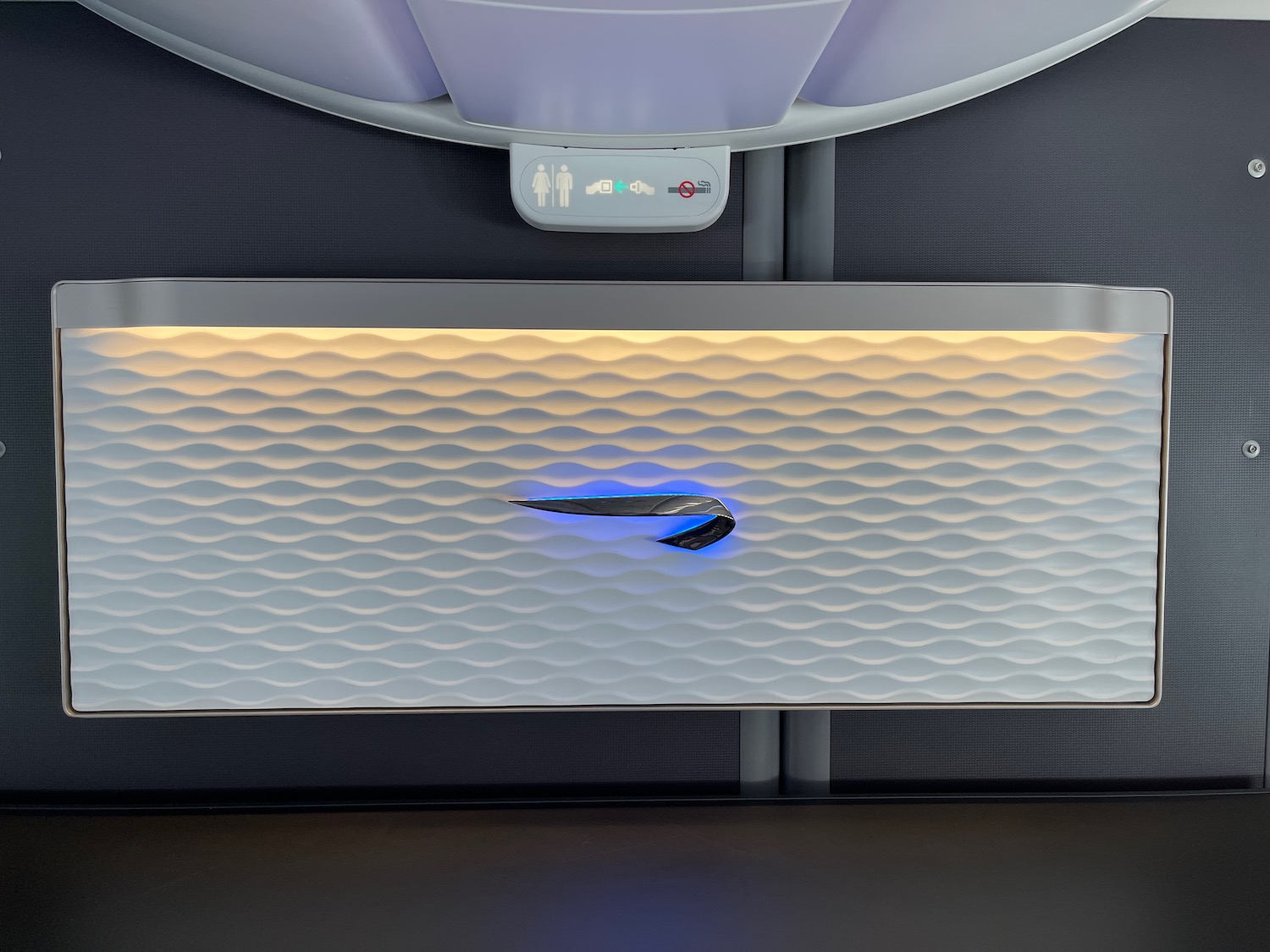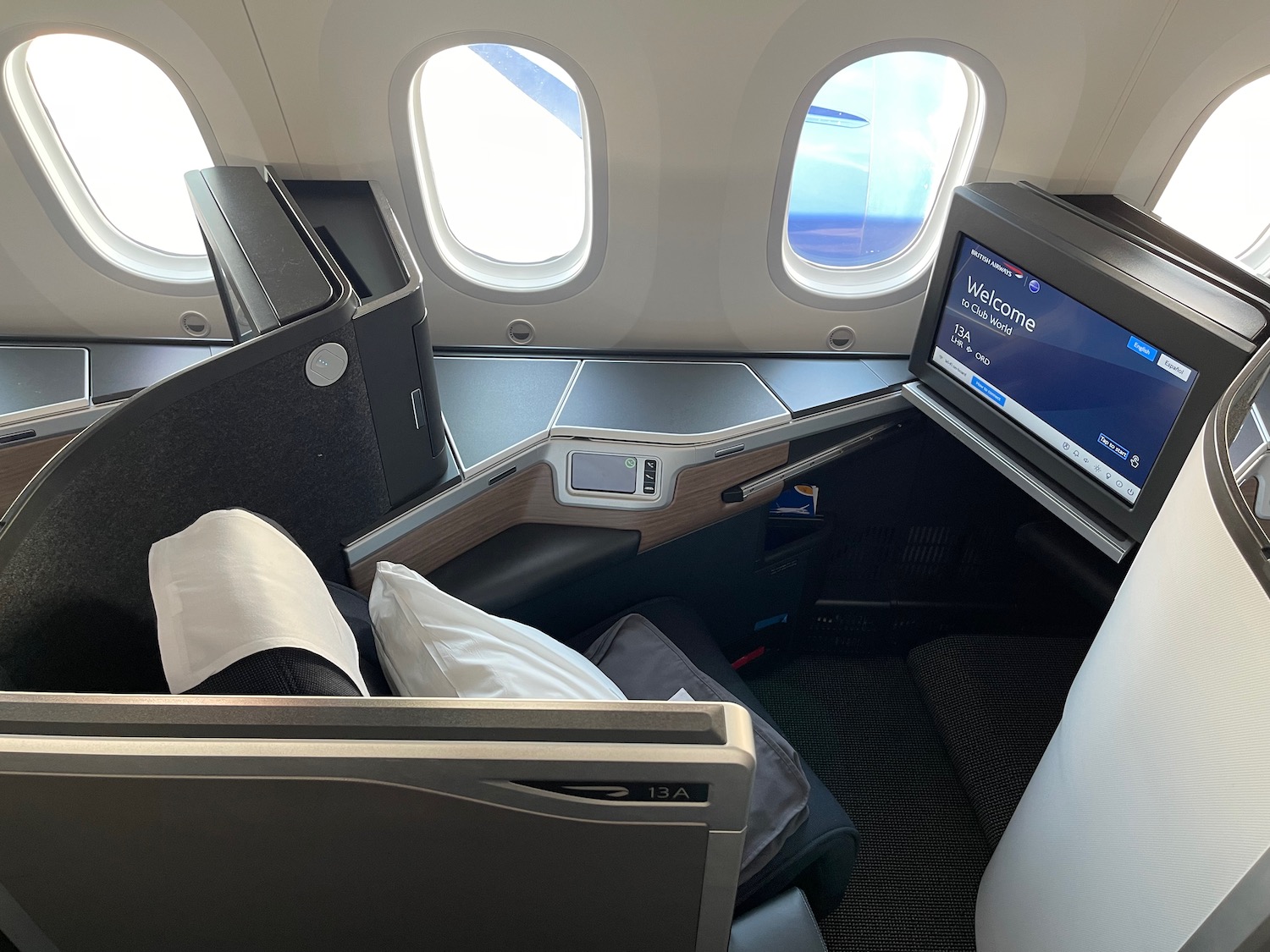 The cabin features a customized version of the Collins Super Diamond seat, with added doors, acoustic lining, and an ergonomically designed retractable bi-folding tray table.
The doors were a disappointment (mine would not stay shut), but they certainly provided some degree of privacy.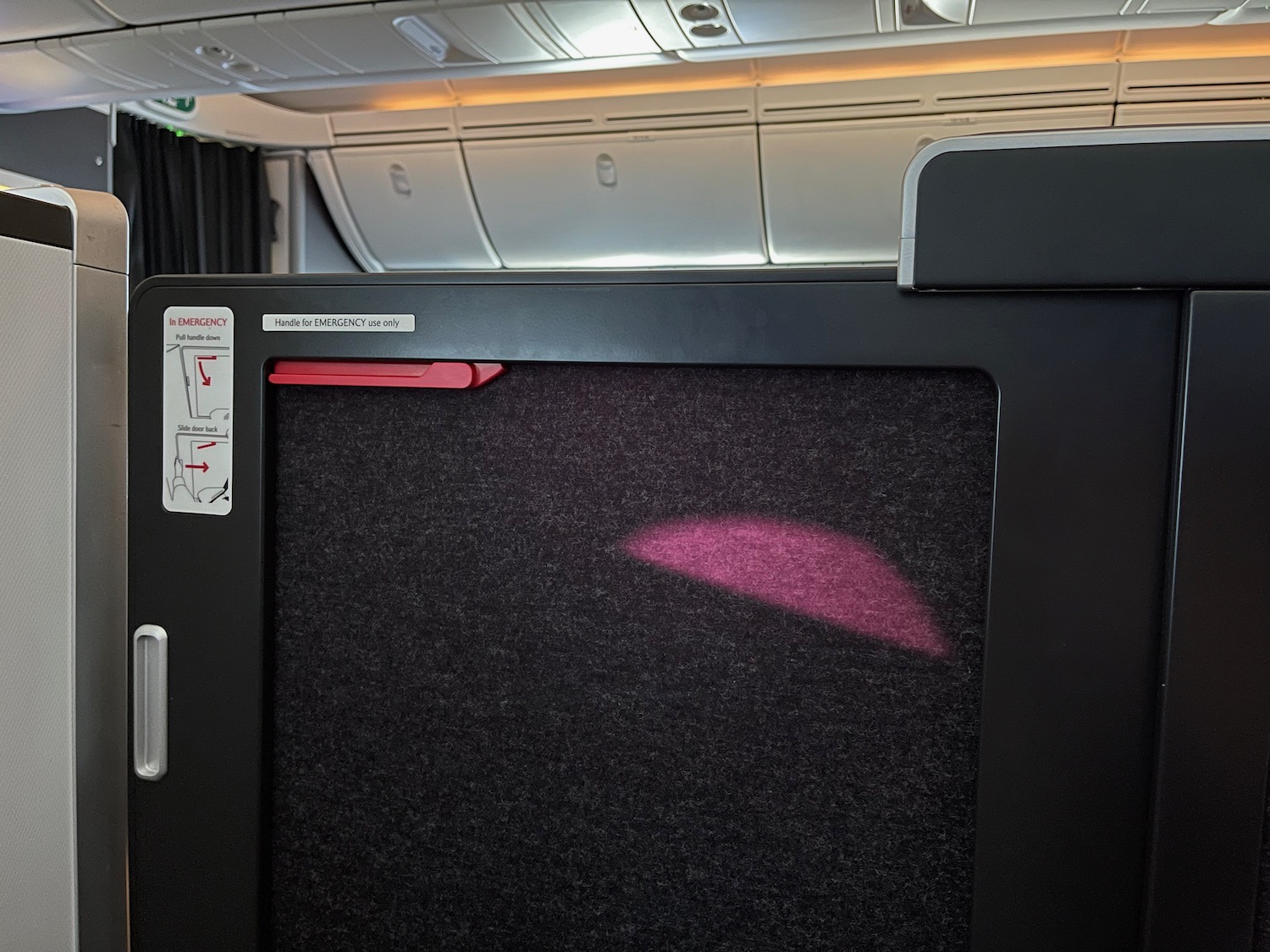 The seat 21 inches wide (between armrests) and 79 inches long when in full lie-flat mode. There are no personal air vents.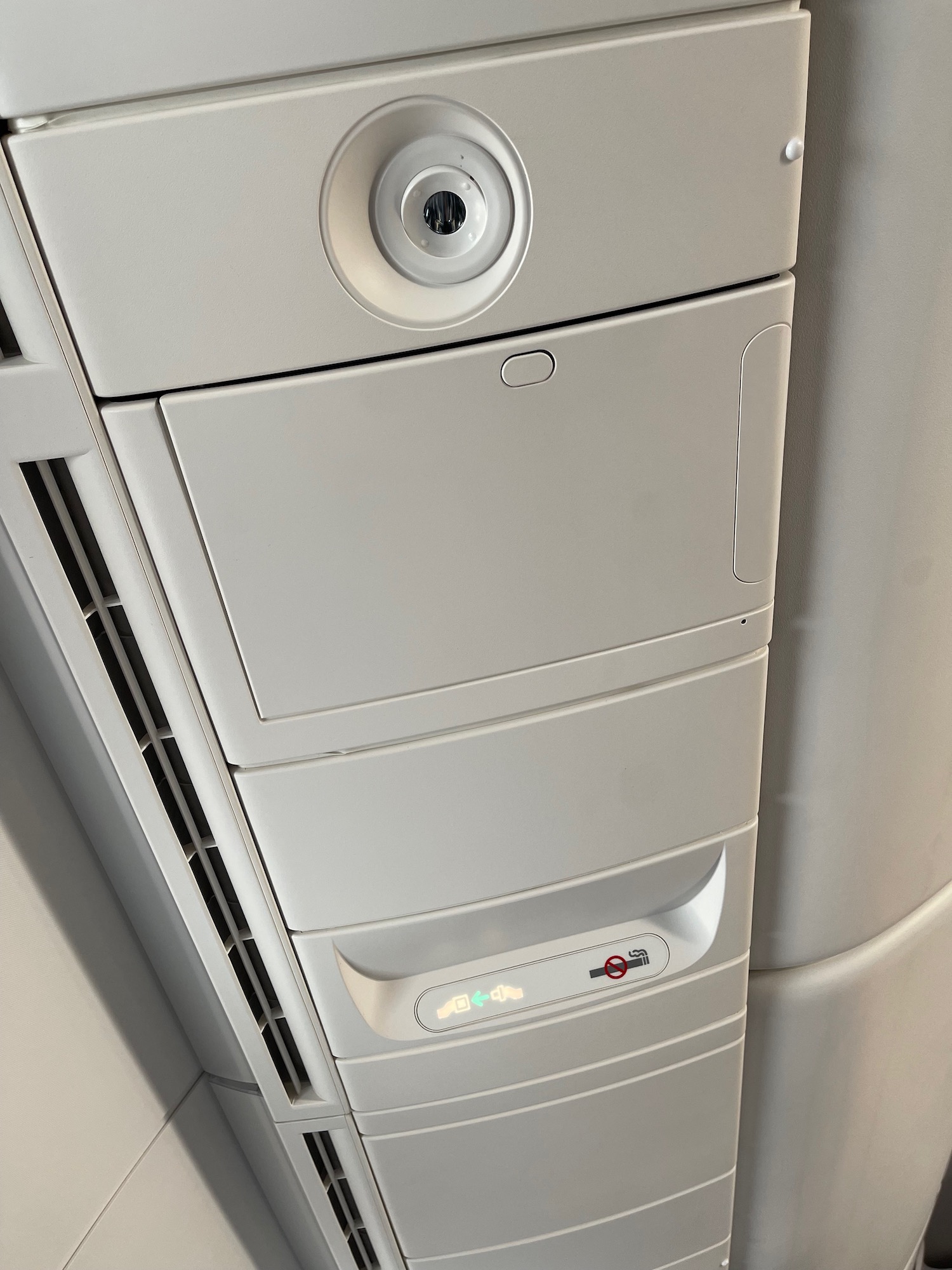 A side compartment offers storage for perusal items like mobile phones and wallets, though these can also be placed inside one of two storage compartments on the side console (the larger compartment has a universal plug, USB A charger, and handheld unit for the IFE). There was yet another storage compartment at foot level and a coat hook near the IFE screen plus a spotlight reading light.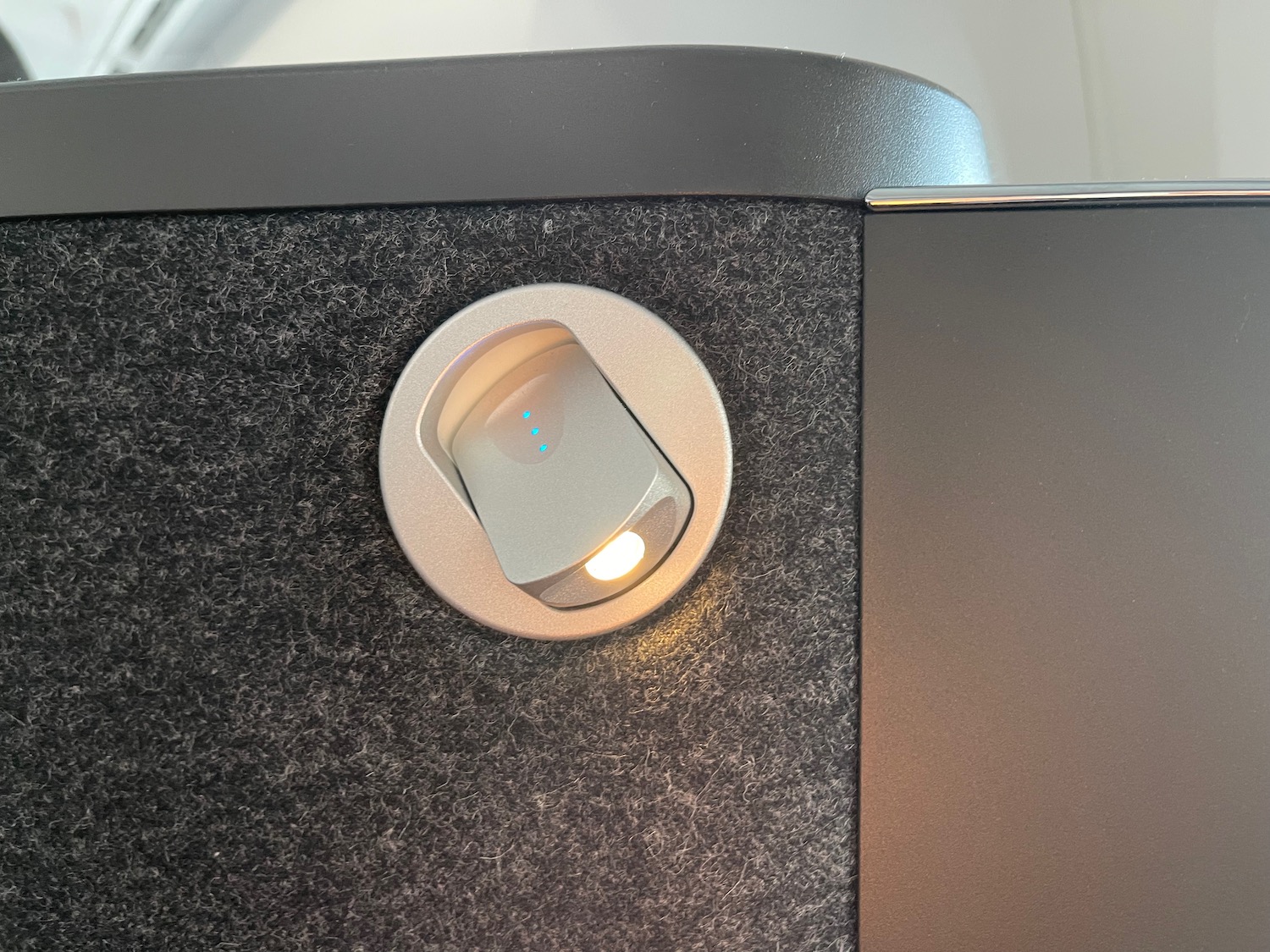 The cabin was clean overall, but I found a piece of trash in the compartment:
There was also a prominent pair of scratches in my suite:
A small touchpad offered seat controls.
The bedding came in a rectangular box and is from the White Company. It included a mattress pad and duvet, both of which were plush (and the pillow was plushest of all and the largest pillow I have ever seen in business class).
My biggest takeaway: the seat is just comfortable: the cushion is plush, the pillow is huge, and the comforter is soft and cozy. There was also plenty of room for my feet. I must admit, I spent almost the entire flight sleeping.
Food + Drink
I generally enjoy British Airways catering (Do & Co out of London) and this flight was no exception. Lunch was served shortly after takeoff with a snack seven before landing.
Menus were distributed prior to pushback and choices included beef short rib, a chicken pie, or honey-glazed onion squash.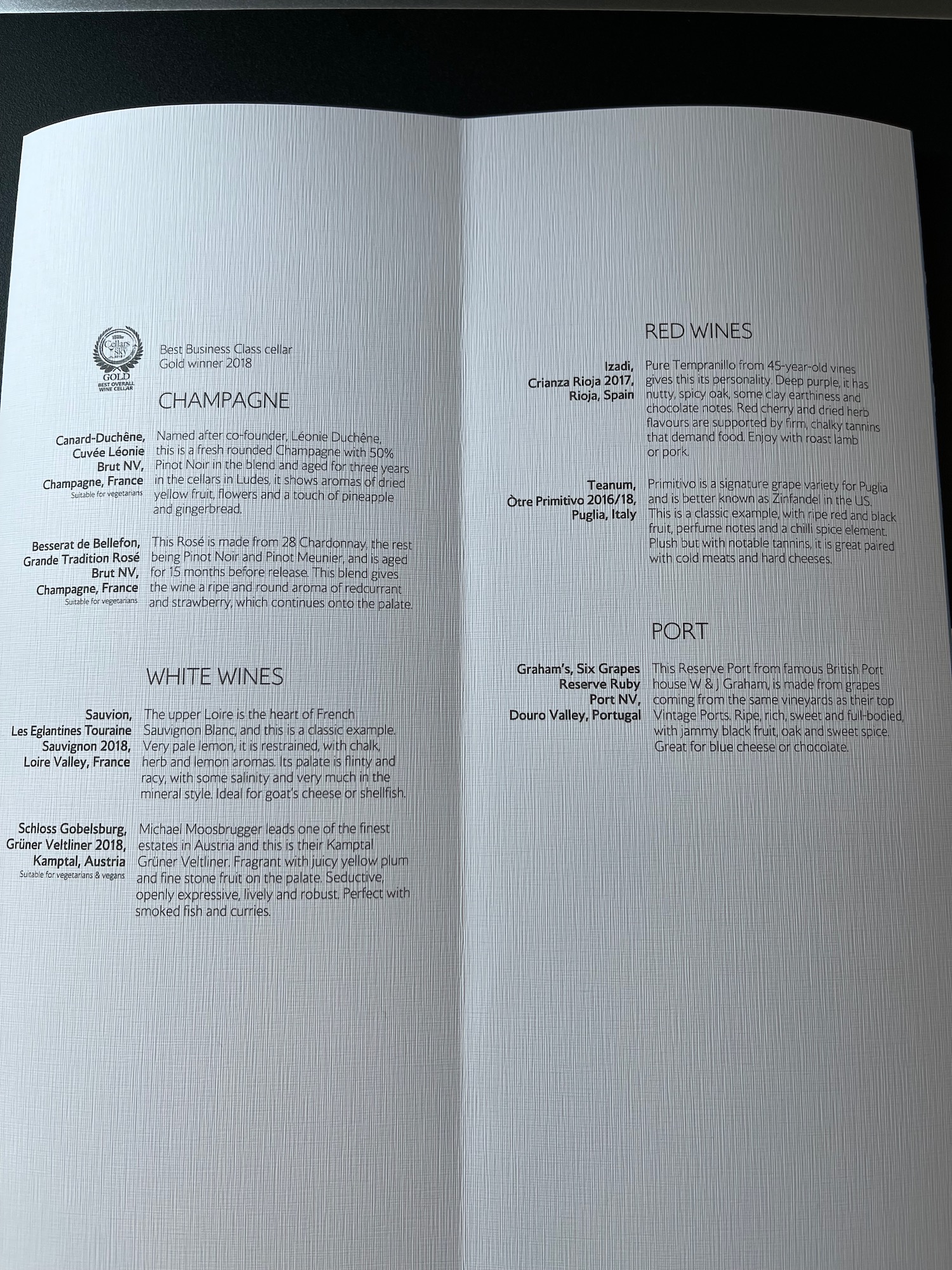 A glass of water was offered pre-departure (or sparkling wine).
Lunch began with a choice of drink (I ordered a glass of Besserat de Bellefon Grande Tradition Brut Rosé Champagne) and a packet of nut mix with cashews, corn, chickpeas, and almonds.
I chose the British slow-roasted short rib with Yorkshire pudding, roasted potatoes, peas, carrots, and horseradish. All choices were served with a starter of roasted cauliflower, a small selection of cheese (cheddar, red Leicester), and chocolate mousse crumble with raspberry compote.
It was really a satisfying dish, but the presentation left so much to be desired. The starter, main course, cheese, and dessert were all hastily assembled on one tray and plopped down before me.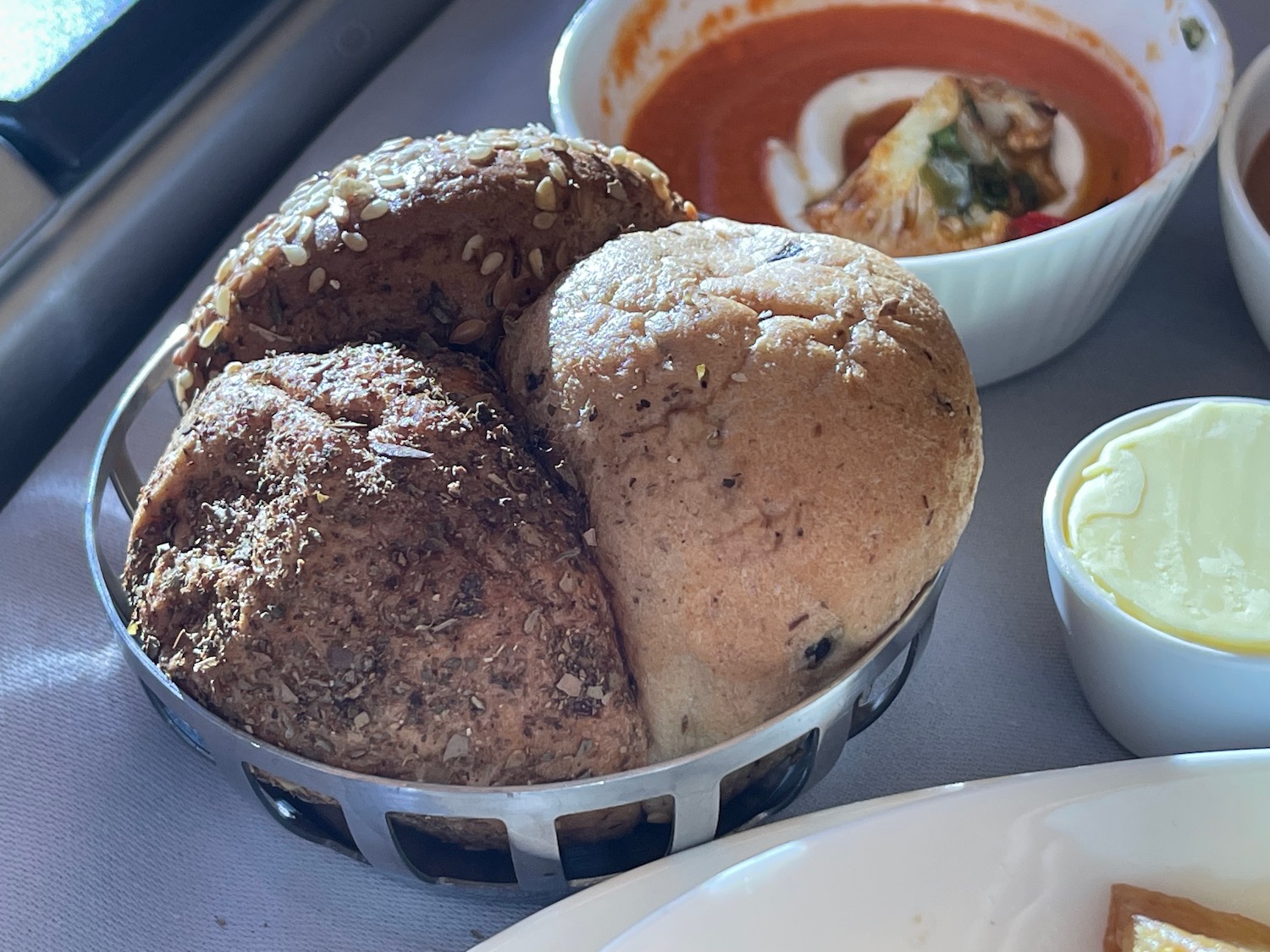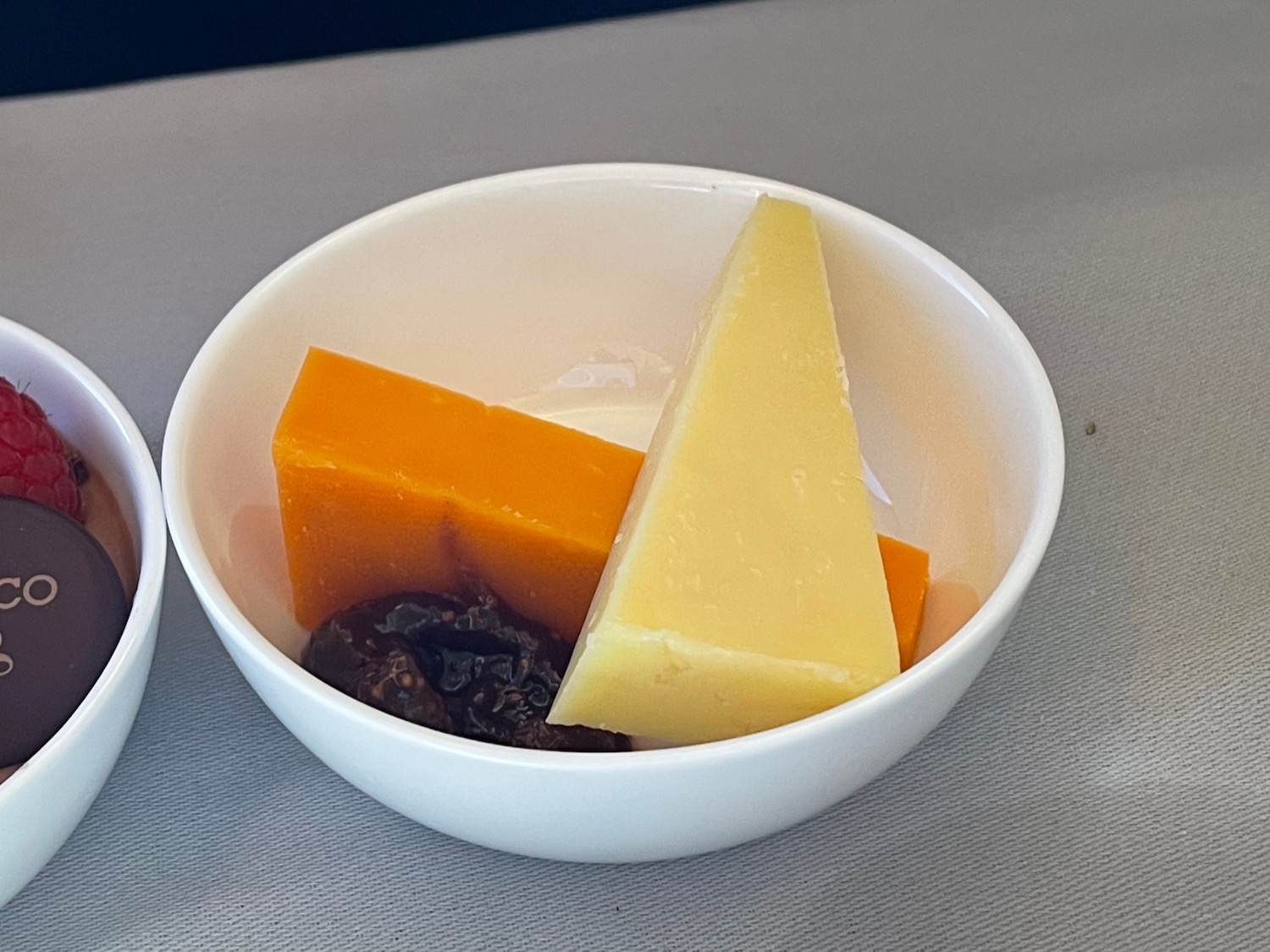 The advantage was that within 45 minutes after takeoff, I was done eating, which allowed me plenty of time to sleep. But the presentation was really pathetic – even a few seconds more effort would have made this tray look much more presentable:
But there's no doubt it was delicious…
I concluded lunch with a cup of coffee, served with a Lindt chocolate.
The good news is that British Airways has now abandoned its COVID-era dining policy and has restored service in courses. Expect a more substantial appetizer and dessert, both served as a separate course, if you travel on British Airways today.
Between meals, self-serve snacks were available in the lavatory, including chips (crisps), cookies, nut mix, popcorn, and chocolate.
The pre-arrival meal was small but decadent…and so unhealthy! A "homemade" Hertfordshire saddleback pork sausage roll with fennel and onion seeds. Very delicious (I wasn't even hungry but could not resist). The other choice was a grilled vegetable panini. You can also expect a more substantial pre-arrival meal if you travel with British Airways today.
Water bottles were offered throughout the flight.
Amenity Kit
The amenity kit is also branded from The White Company and I found the small black leather pouch quite attractive and handy. I try not to save amenity kits any longer, but I use this one to store our passports in at home – they fit perfectly (all seven of them).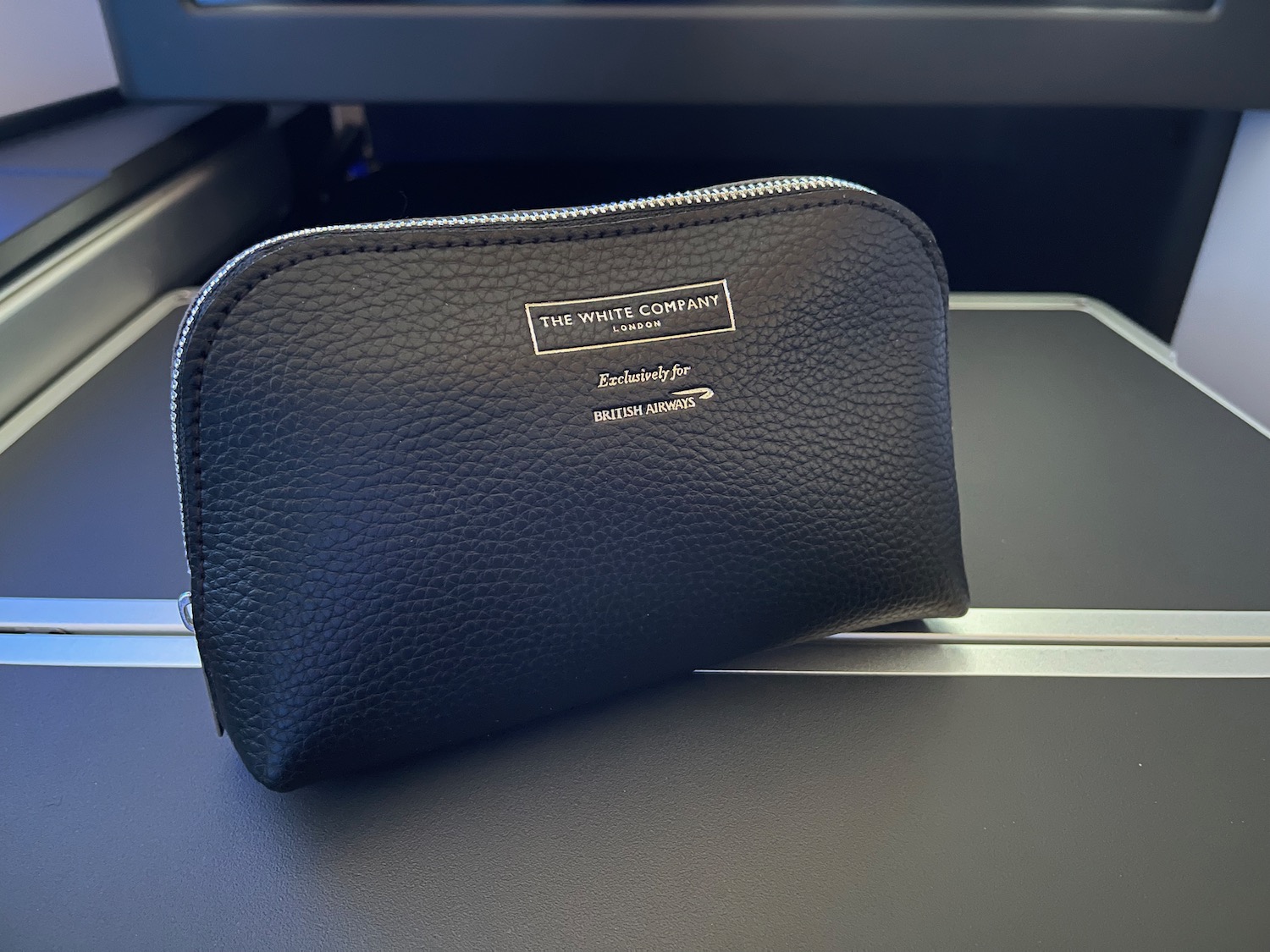 Contents included socks, eyeshades, dental kit, ear plugs, and three skin products from The White Company including a moisturizer, spray, and lip balm.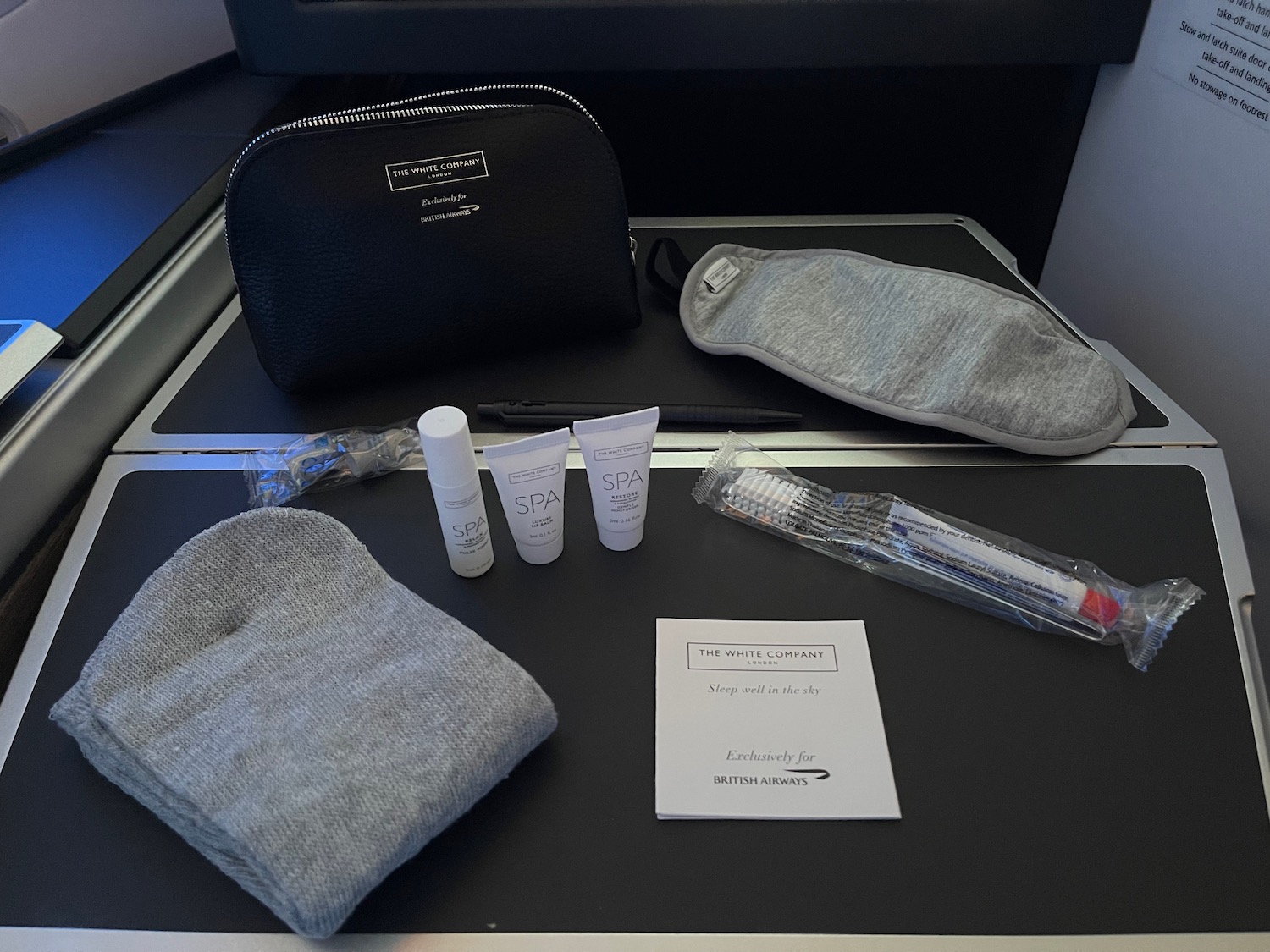 IFE + Wi-Fi
The new plane features an 18.5-inch touchscreen with a large library of games, TV shows, music, and movies. I appreciated the wide selection of British movies and greatly enjoyed Six Minutes to Midnight during lunch. In-flight duty-free shopping was also available via your IFE screen.
Noise-cancelling headphones were provided, though not of remarkable quality.
Wi-Fi was available for purchase. Two passes were available: a messaging pass or browse/stream pass. A messaging pass was £2.99 for one hour or £4.99 for a flight pass while a stream pass was £11.99 for four hours or £17.99 for a flight pass.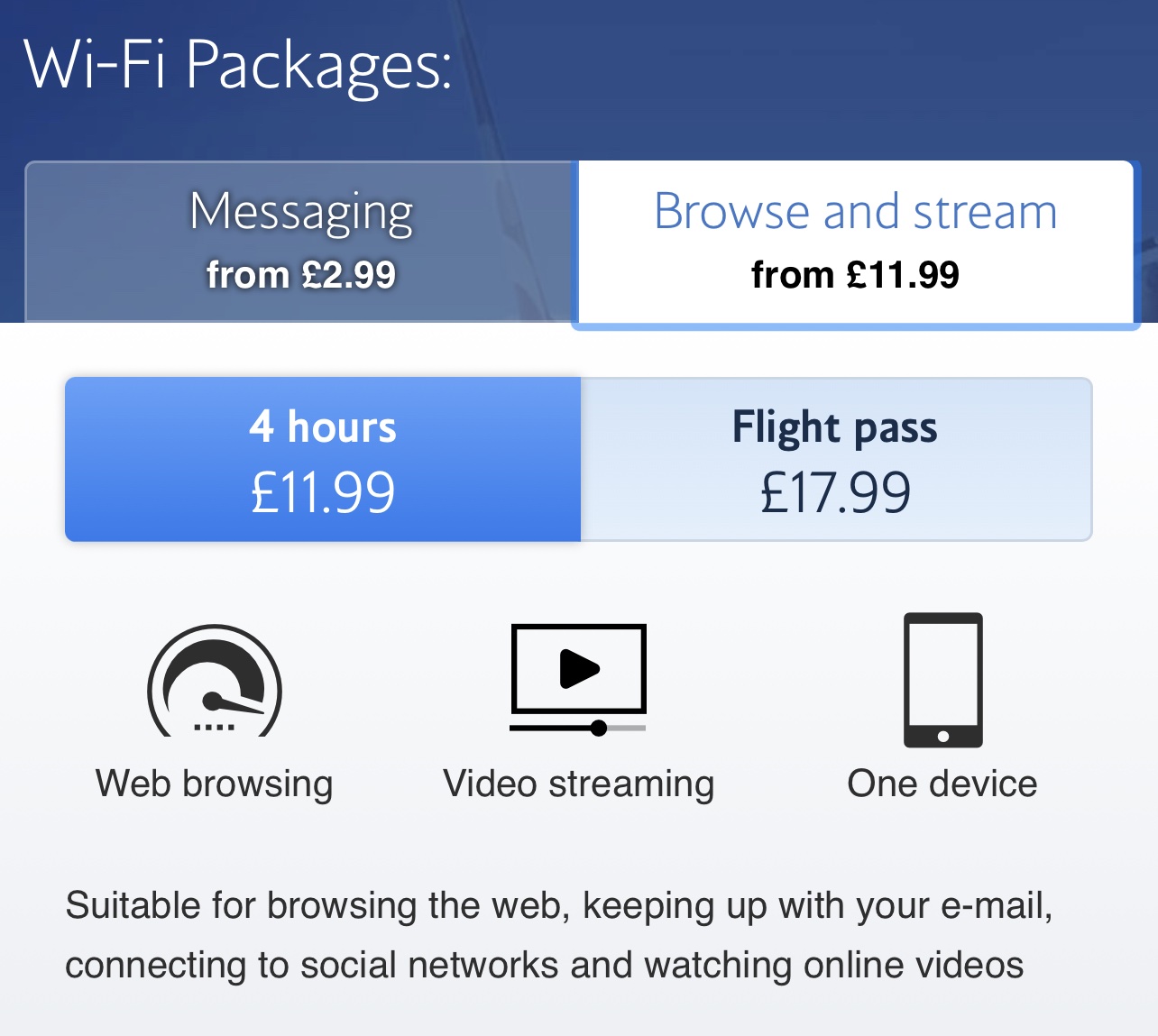 We had a fairly long taxi out of Heathrow before takeoff, offering plenty of time for plane spotting…including the elusive Airbus A318 that I have yet to fly on.
Lavatory
In something that reminded me of flying a Japanese airline, the lavatory featured a separate table that flipped down over the toilet that you could sit on to tie your shoes (according to the picture) or get dressed.
Beyond that, it was the same lavatory you will find on just about any other 787 and featured hand wash and balm from The White Company.
Service
Finally, a quick shout-out to the crew. Even though I spent most of the flight sleeping, the crew was friendly and attentive, stopping by often to see if I needed anything. As I always find to be the case on British Airways, the crew was very pleasant and not at all pretentious. When I woke up from my rest, a flight attendant appeared moments after and asked me if I wanted a snack before my landing (It was 45 minutes before landing at this point).
I will say the crew had it easy on this flight, as the plane was no more than 20% full. In fact, until the ending of boarding the entire rear business class cabin was empty.
CONCLUSION
We landed to a wet and cold day in Chicago, pulling up in Terminal 5 seven minutes ahead of schedule. It had been a smooth, drama-free flight on British Airways that I mostly slept through. I am a big fan of British Airways and think the Club Suite is a real winner, with superb comfort and bedding. Now that BA has also improved its meal service, I'd say BA is one of the most competitive business class products in the sky, assuming you get one of the new suites. I look forward to flying BA again.
Have you flown the new Club Suite on British Airways? What did you think of it?
Source link